Alerts
Competition pool at BSC Aquatic is closed Tues. Dec. 10 from 7am-3pm for filter cleaning and maintenance.
There is lap swimming available in the program pool.
Bismarck Figure Skating Club
Contact: bismarckfigureskatingclub.com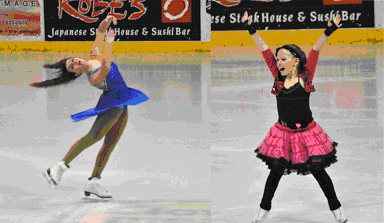 Skate, Advanced Competitive Program and Synchronized Skating Program. The three programs are designed to work harmoniously together and offer a variety of options to surpass the average skating skills.
The Learn to Skate program provides group instruction for the beginning skater from preschool age through adult. This is the grassroots program of the club and is partnered with the Parks and Recreation to provide a great learning experience for the community.
The Advanced Competitive Program is the next step for skaters after the completion of the Learn to Skate program. This program provides one-on-one private skating instruction and involves participation in United States Figure Skating (USFS) test sessions and area competitions. Bismarck Figure Skating Club also hosts an annual competition each season. This program offers complete instruction from beginning to end with several skaters obtaining the highest levels of achievement in Gold Free Skate, Moves in the Field and Dance. The Advanced Program has participated in the Parks and Recreation Matching Grant program to purchase equipment to assist the skaters within the program.
The Synchronized Skating Program is a nationally competitive program consisting of five teams of varying ages and levels. The teams practice one to three times weekly along with the skaters participating in either our Learn to Skate or Advanced Program. The teams compete throughout North Dakota, Minnesota, Michigan, and Wisconsin. Our oldest team, the Capital Ice Chips, recently qualified for the second year in a row to compete at the National Synchronized Skating Championships in Boston, MA. Another highlight for the teams this year was winning four gold medals and a bronze at the highly competitive Maplewood Classic in Minneapolis, MN this past December. The teams skated at Mariucci Arena and competed against teams from across the Midwest and Australia. We have two skaters, graduating from high school and our program last year competing for Team USA in synchronized skating with college teams at Miami University in Ohio and the current world bronze medalist, Haydenette Synchro team based in Boston, MA.
The Annual Ice Show will be held March 23-25 at the VFW arena. We have over 100 skaters participating in the show. The show features our beginning skaters, advanced competitive skaters, and synchro teams.